ON DEMAND
Always a Nurse: The Path from Direct Care to Hospital CEO
Ever wonder how a bedside nurse becomes a hospital CEO?
During this conversation with Rhonda Anderson you will get a firsthand accounting of the path from providing direct patient care to being hospital CEO. Hear how her experience as a Nurse influenced her work as a hospital leader and gain insights into being a Nurse in the top position.  Rhonda will also speak to the many opportunities she has had since leaving the hospital, as she continues to impact healthcare.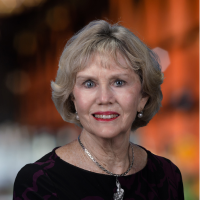 Rhonda Anderson 
RN, DNSc(h), FAAN, LFACHE, FACHT
Rhonda Anderson is a frequent speaker, author, editor, advocate for children, and mentor to leaders across the healthcare industry. Her influential and illustrious career that has crossed barriers bringing new thinking and innovation to the leadership table of for-profit and not-for profit healthcare organizations.
Rhonda is currently President of American Nurse Credentialing Center. A sampling of Rhonda's accomplishments includes CEO, Cardon Children's Medical Center, COO, Banner Desert Medical Center, on the Board of Trustees, American Hospital Association, Past president AONL, past Joint Commission Board member, Board Member Make a Wish Arizona, and Global Healthcare Accreditation Surveyor/Consultant, Banyan Advisory Board and Prolucent Board of Directors.
Carol Bradley
MSN, RN, FAONL
Nationally recognized nurse leader whose passion for data informed workforce strategies has driven success in key leadership roles within leading healthcare systems. Past President of the American Organization of Nurse Leaders and recipient of the DAISY Lifetime Achievement Award. Carol's broad experience includes System CNO at Legacy Health and Regional CNO at Tenet Healthcare. She served as Chair of the Board of Trustees, Oregon Association of Hospitals and Health Systems and, Board President for the Commission on Graduate Foreign Nursing Schools.
Carol is currently the Chief Nurse Executive at Prolucent and sharing her experience through publishing and speaking.
Brought to you by Prolucent/LiquidCompass in partnership with The Nursing Way