We streamline the management of ALL flexible labor
Internal and external flexible labor sourced and managed – all in one place.
VMS+, our proprietary technology goes beyond your traditional Vendor Management System (VMS) technology by uniting the management of your entire flexible workforce. We like to call it a Flexible Workforce Platform (FWP).
Take control and effectively manage your entire flex workforce across the enterprise.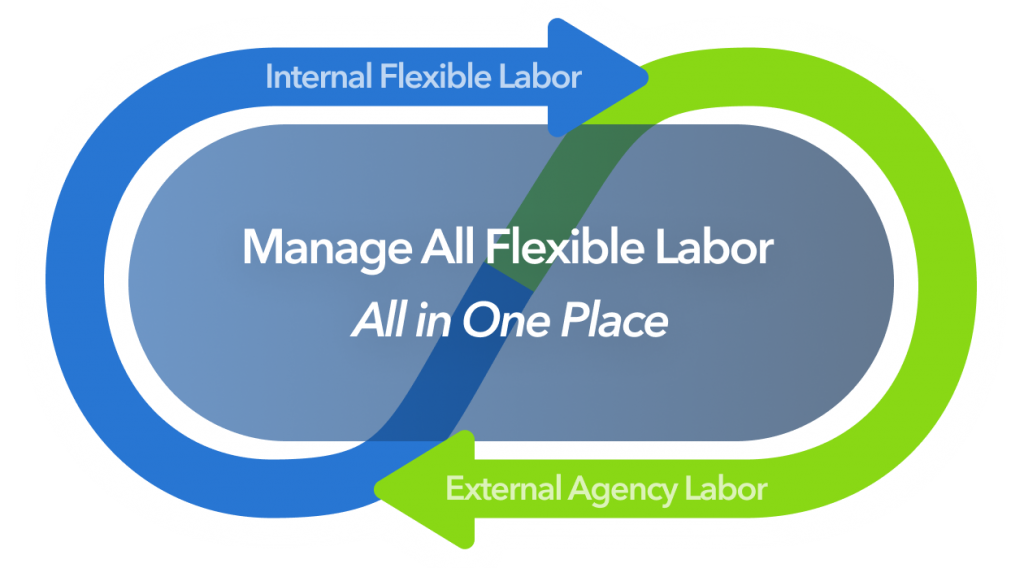 We look at your workforce holistically to drive better results.
Like most other VMS platforms, LiquidCompass® VMS+ includes end-to-end order and staff pool management, fulfillment, compliance, time and invoicing, and reporting for traditional contract and per diem agency needs.
Of course, we have improved the "expected" VMS functions by dramatically improving the user experience; building the platform for performance; and applying decades of experience to necessary vendor management configurations, features and workflows.
More importantly, we have built LiquidCompass® VMS+ as a component of our workforce platform. Use LiquidCompass® VMS+ to attract and build your own internal flex and internal agency labor pool. Use it in concert with LiquidCompass® Talent Engagement Marketplace and Market Console to reduce outside agency costs.
With clear and comprehensive management of your flexible workforce, you can improve the use of your own internal talent and drive strategic, cost-effective utilization of external contingent labor with VMS+.
Reduce Administrative Workloads

with highly-configurable workflows that streamline order approval, order distribution, compliance and staff onboarding

Spend Less Time Managing Contingent

 with easy-to-use, consolidated dashboards and effective, simplified task handling

Prioritize order distribution

by leveraging robust, tiered staffing models to distribute orders to internal flexible pools first, before using external resources

Simplify Compliance

by reducing time on initial onboarding, compliance enforcement, management and reporting complete with full audit trail and modern worker profiles

Access Real-Time Data

and advanced analytics on utilization, recruitment, and contingent labor costs to make better and more confident staffing decisions for your entire workforce

Manage Rates and Estimate Costs

with built-in cost management functions and real-time cost estimates, accruals, and invoices

Track Key Measures

including utilization, pay rates, time to fill, etc., using dashboards with real-time status on all candidates and hired contingent staff

Seamless Integration

with Time and Attendance and other HRIS systems

Adjust to Growth and Trends

with easy scalability and adaptability to meet the demands of a changing labor market
VMS+ and our Unique MSP services work in concert to drive down agency costs.
Pioneers in Vendor Management Technology
Our team is made up of healthcare technology experts who pioneered and developed two of the industry's first VMS and vendor-neutral MSP offerings. Prolucent continues to modernize and further innovate with our VMS+ technology responding to today's evolving workforce management needs.
The Three Most Significant Trends in the Recruitment landscape
Solving Healthcare's Labor Challenges with a Holistic Approach
Flexibility is key to success. Let us help.