Changing the game to solve labor challenges in healthcare
We provide modern tools and services built to create sustainable and affordable solutions that meet healthcare workforce needs.
Launched by a team of seasoned healthcare workforce executives, Prolucent is leading the change needed to meet the labor demands in healthcare through innovation and thoughtful disruption. 
Your Workforce. Our Mission.
President
Influential and innovative leader in healthcare workforce strategy, technology, workforce data and talent management. Valued strategic advisor to a broad spectrum of care delivery systems and healthcare organization such as The Advisory Board.
SVP, Operations & Client Success
Highly valued, result driven leader honored by colleagues, clients, and employees alike. Expert in advanced data analytics uncovering new insights and guiding impactful actions that support client success.
SVP, Products & Client Solutions
Product focused business leader described as "brilliant" by colleagues and clients. Masterful at translating client needs into powerful product features that break down barriers, streamline processes and optimize performance.
CFO
Both a people and numbers driven business leader with a solid track record at start-up and early-stage companies in roles of CFO, COO and interim-CEO. An admired thought-leader with healthcare expertise in technology, services, and mergers and acquisitions.
CTO
Recognized for propelling companies forward by accelerating the innovation, development, delivery, and expansion of next generation products for private companies, public companies, large enterprises and small start-ups.


SVP, Technology
Coveted in-the-weeds servant leader every company wishes they had. Effectively applies a vast knowledge of technology, data science, and analytical thinking to innovate, solve problems and create value.
VIce President Sales
Strategic, results driven sales leader with 20+ years of success growing business, leading teams, setting and achieving sales goals in multiple healthcare verticals including software, medical device, and pharmaceuticals.
RN, MBA<br>Vice President Sales
Award-winning sales executive leveraging combined experiences in nursing, business, product management, and healthcare strategy with a deep commitment to bringing innovation to healthcare.


Vice President Marketing
Thoughtful, versatile, and principled marketing executive with a long history of success in building teams, leveraging tools, and bringing new products to market. Uses a collaborative relationship-building style that invites trust and leverages talent across the organization.
DNP, RN
Lorem estismo ignis augiat ullam iurer alisiscidunt nullandit et, sed volor sequam endrem do dolore vendip eugait.
Board of Directors
Lorem estismo ignis augiat ullam iurer alisiscidunt nullandit et, sed volor sequam endrem do dolore vendip eugait.
Board of Directors
Lorem estismo ignis augiat ullam iurer alisiscidunt nullandit et, sed volor sequam endrem do dolore vendip eugait.
Board of Directors
Lorem estismo ignis augiat ullam iurer alisiscidunt nullandit et, sed volor sequam endrem do dolore vendip eugait.
Dr. Rhonda Anderson
Board of Directors
Influential and illustrious career that has crossed barriers bringing new thinking and innovation to the leadership table of for-profit and not-for profit healthcare organizations. Frequent speaker, author, editor, advocate for children, and mentor to leaders across the healthcare industry.
Grant Blevins
Health Velocity Capital
Grant has spent his entire career investing exclusively in innovative healthcare companies. Prior to joining Health Velocity Capital, Grant was a healthcare investor with Clayton Associates, Nashville's oldest venture capital firm, where he co-led deal sourcing. He sourced notable investments in RubiconMD, Shiftwizard (acquired by Health Stream [NASDAQ: HSTM]), and HealthiPASS (acquired by Sphere).
Austin Walters
Spring Tide Ventures
Austin is a healthcare technology investor and operator who is passionate about supporting fellow entrepreneurs in working to improve human health and wellness. Prior to starting SpringTide, he founded or was an early employee at a number of successful ventures, including EchoNous, Edilytics, Friendemic, and Innosight.
Saurabh Bhansali
Health Velocity Capital
Saurabh has spent his career working with innovative healthcare services and software companies. Most recently, Saurabh helped build and lead investments for Humana Health Ventures, the venture capital arm at one of the nation's leading healthcare companies and second largest Medicare Advantage insurer. Prior to Humana, Saurabh held roles on the investing teams at HLM Venture Partners and Ferrer Freeman & Co and worked at Pfizer as part of the mergers, acquisitions, and licensing team.
Austin Duke
UnityPoint Health Ventures
Austin Duke currently serves as Venture Investing Director at UnityPoint Health Ventures where he helps lead all investment activities including sourcing, diligence, execution and post-investment support. Austin brings more than 10 years of biomedical research and development experience along with a deep understanding of the opportunities and challenges presented to startup companies.
Brad Otto
SpringTide Ventures
Brad is a principal at SpringTide where he supports the firm's investment sourcing, diligence, and evaluation efforts. He is passionate about supporting health-tech founders. Prior to SpringTide, he was an associate on the corporate VC team at UnitedHealth Group where he helped launch a behavioral health startup.
your Workforce. Our mission.
Your Workforce. Our Mission.
The Bureau of Labor Statistics (BLS) projects that healthcare related jobs will grow from 20 million today to 24 million in 2028. This will make healthcare the largest employment sector in the United States, with 14% of the total workforce, at an estimated annual cost of over $1.6 trillion.
Over the next 15 years, a perfect storm of unique factors will require an unprecedented number of new clinicians to enter the workforce. These factors include aging population, healthcare reform, legislated staffing ratios and general population growth. During this period, significant retirement from the existing clinical workforce will occur, just as the demand for their services accelerates. Based on BLS and U.S. Census Bureau projections, healthcare employers will need to hire an estimated 10.8 million new clinicians to fill the gap during this period. That is nearly equal to the number of nurses, physicians and allied health professionals working today.
Prolucent is focused on innovation and thoughtful disruption so that this abnormally high level of workforce demand in healthcare is met with solutions that work.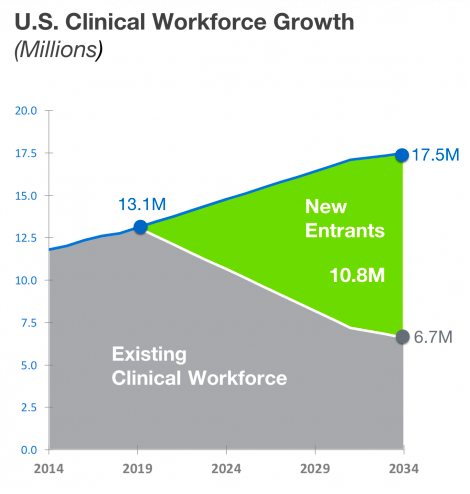 What Prolucent means for you is only a contact away